With many foodies ordering meals online or taking them to-go instead of dining in, it is more important now than ever to cash in on this type of customer. A software program that makes online food ordering easy adds to your restaurant marketing strategy and helps boost your sales. Here are some ways to attract more take-out business.
Ways to Promote Ordering Out
QR Code Signage – Place a small cardboard advertisement on each of your tables with an eye-catching saying to draw your customers in like "Check out our new service". The QR code directs diners to your online ordering page which they can save for future use. This page might pop up again from their web history, persuading them to order out the next time they are hungry.
Signage at the Door – Market your online ordering at the entrance to your restaurant to grab the attention of passers-by. If they are looking to place an online order, then a well-displayed advertisement makes it easy for them to view your restaurant's menu.
Social Media – Make it known on social media that you have a new way to get your delicious menu items to customers. Promote your take-out food options with fun posts that are colourful and intriguing to draw your audience in. It is a good idea to use an image of one of your most popular dishes in the post to say "Hey, guess what? You can get this from the comfort of your own home." Social media is a powerful tool to attract the attention of your target audience. Likes and shares are the new word of mouth that help draw people to your online ordering system.  
Specials – Come up with a special deal for online orders. Have a dish that can only be ordered for take-out or delivery instead of dining in. This will intrigue people and get them to order out to try this special item.
Promotions – FOMO (fear of missing out) can work to your advantage. Try offering a limited-time discount on specific items for online ordering.  People love a good deal and are afraid of missing out, so this type of promotion gets them to place an order faster.
Discounts – Give discounts to your loyal customers by providing them with codes for any online order they make. Everyone loves saving money and this will encourage them to use your online ordering system more frequently.
Stickers – Did a dine-in customer ask for a takeout container? Place a sticker on their care package to let them know they can use your online ordering system for dining out. This way they can enjoy their favourite meals in the comfort of their own home while still having a hot, freshly made dish. 
Loyalty Program – Give customers the chance to make repeat orders from your restaurant with a loyalty card that gives them a meal for free after multiple purchases. Your online ordering customers will be thrilled to receive a little extra for their continued patronage.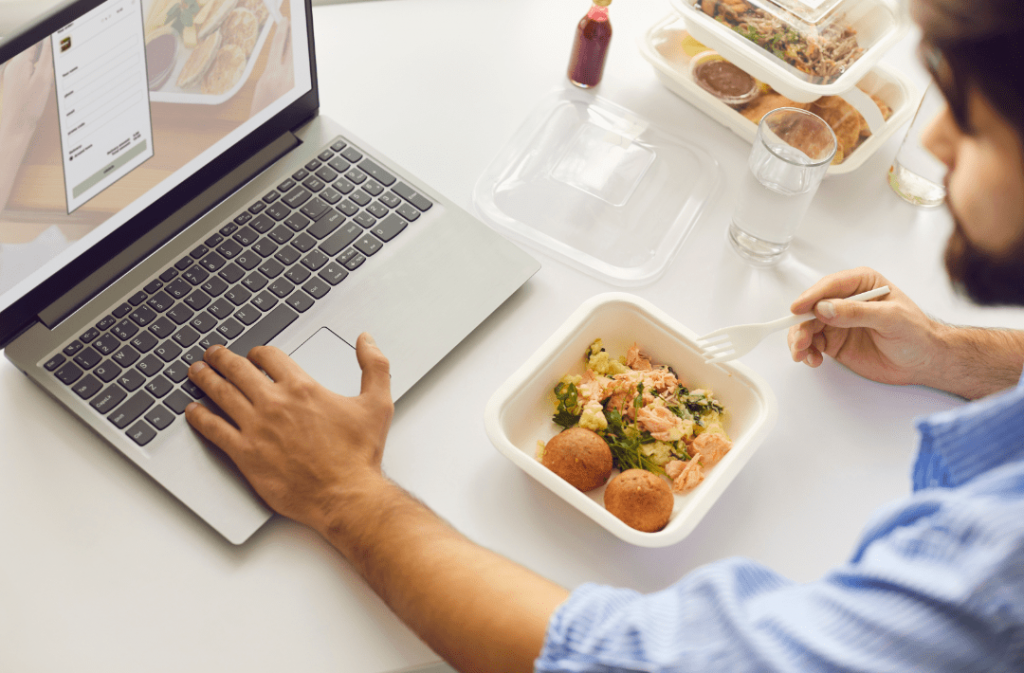 How to Make Your Online Ordering a Great Experience for All
Encouraging customers to use your online food ordering business requires more than one restaurant marketing tactic. Make sure the online experience is a smooth, positive one for customers. How do you do this?
Ask for Input – Ask your customers for input on how well they like your online ordering site. Make changes and improvements based on the feedback you receive. This shows you are listening. Your customers will feel validated, and you may use some of their creative ideas to make adjustments.
Take a Survey – Get your customers to take a survey on what their favourite order-out dishes are and why. Let them tell you their least favourites compared with dining in. This helps you know which items need to be worked on or removed from the takeout menu completely. Keep your survey short to encourage participation. No one wants to spend an hour doing a survey, but a few questions are quick and easy.
High Speed – Have a website that works well for online orders. It should be quick to click from item to item, so users don't get frustrated and move on to another restaurant's ordering system.
Offer Images and Descriptions – Show off your food with professional pictures that really showcase what each dish will look like; just make sure it is accurate. Make a list of all the ingredients so people know what flavours to expect and can determine if the items contain anything they may be allergic to. Ensure every dish on your takeout list is travel-friendly so it still looks and tastes amazing when it gets to your customer's door.
Online Ordering Creates Extra Sales
Why wouldn't you want to give your restaurant an additional way to make a profit? Online food ordering is a key restaurant marketing technique that we, at 247 Waiter, know all about. Just ask us how we can help you increase your food and drink sales.