How Does Our Restaurant Ordering System Work?
The following process is the same for both the web version and mobile version. Screen shots below is for the web version. You can also see an actual working demo by clicking here.
1. Restaurant Menu Items
Our restaurant ordering system is simple, yet sophisticated. You can have an unlimited number of food items all divided into their appropriate categories & sub-categories. These will be professionally displayed on your website & online ordering system for your customers to browse and choose from.
See image below: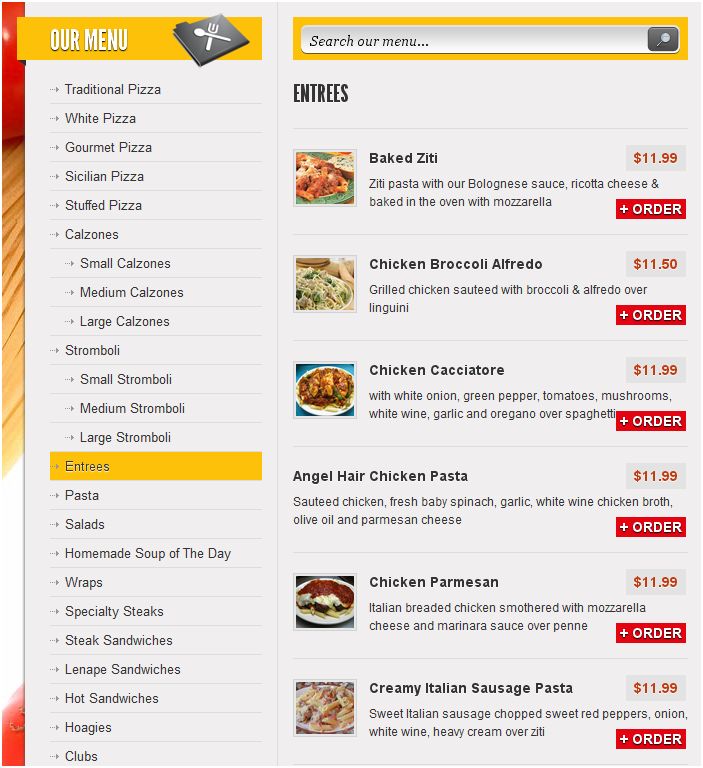 2. Choosing What to Order
Your customers browse through your menu and choose as many items as they want to order. Our online ordering software is sophisticated, allowing customers to customize their orders and choose exactly what they want. Regardless of what kind of food/menu you have, our software can handle the options and choices your menu requires. For group orders, customers can also specify which menu items are for which members of the group. In addition, there's a box to type in any special instructions the customer requires.
See image below: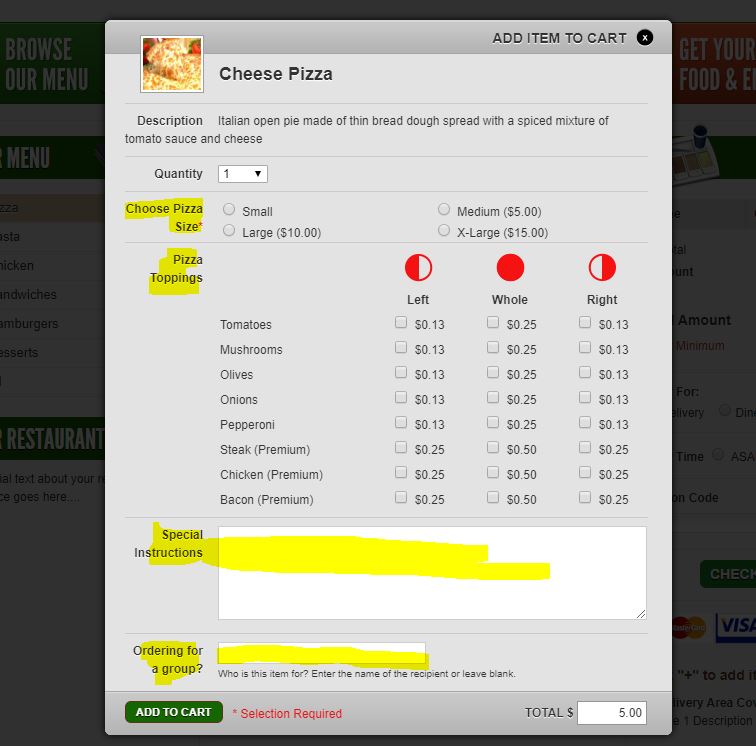 2. Ordering Food
As your customers add restaurant items into the shopping cart (ordering system), a list with all their selections is maintained on the right side of the ordering website. They have the option to edit/delete/update/change options of any specific items directly in the shopping cart. In addition, they will be required to choose whether they would like place an order for "Pick-Up", "Dine-In" or "Delivery" (Based on your restaurant's specific settings). After selecting the order for option, they will be required to choose whether they want to place the order for right now ("ASAP") or schedule it for a later time or date (Great for picking up your food on the way home from work, or placing an order early to pick up during lunch).
See image below: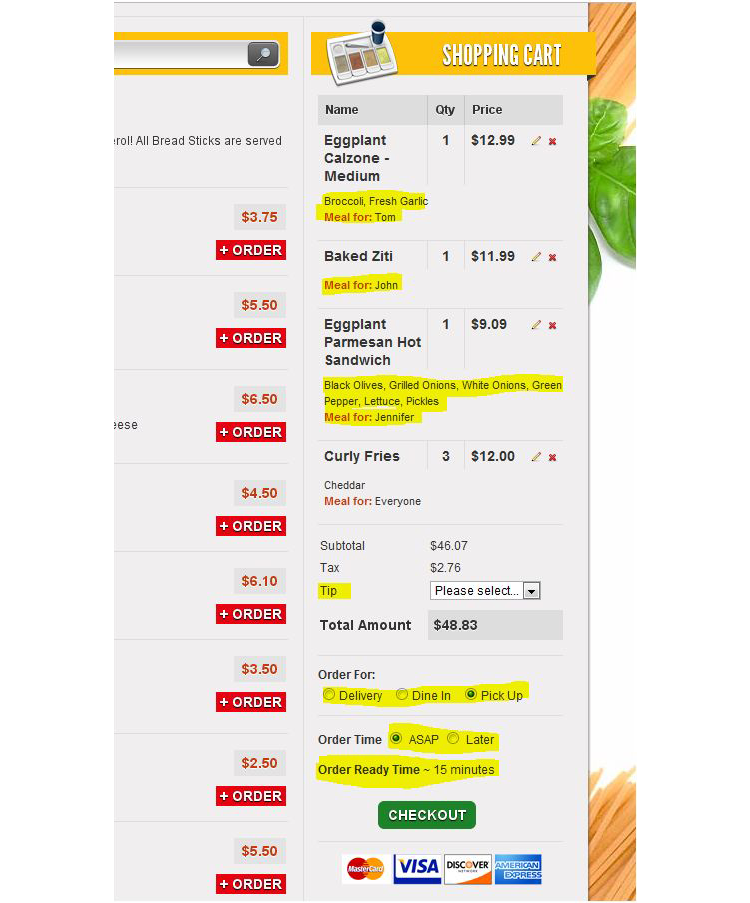 3. Checking out – Step 1
There are 2 steps in the checkout process. Step 1 is to either login or register on your restaurant ordering system and Step 2 is to actually pay & submit the order. Your customers will have to register once on your website/online ordering system and they can place future orders just by logging in. Customers see a login screen with 2 options – login or join the site.
See login screen below: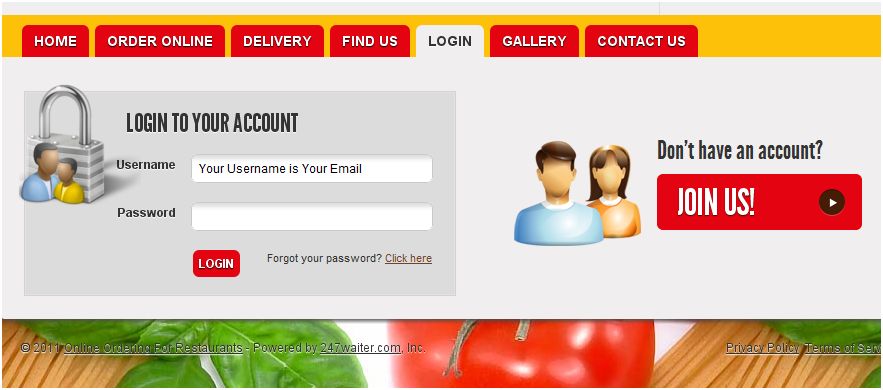 3. Checking out – Step 2
Customers who have not ordered before through your restaurant's online ordering system have to register and provide the following information (See screenshot below).  All this information is stored securely and you as the restaurant owner have access to them. You will build a database of your customers and can market to them regularly for additional business.
Registration Screen below: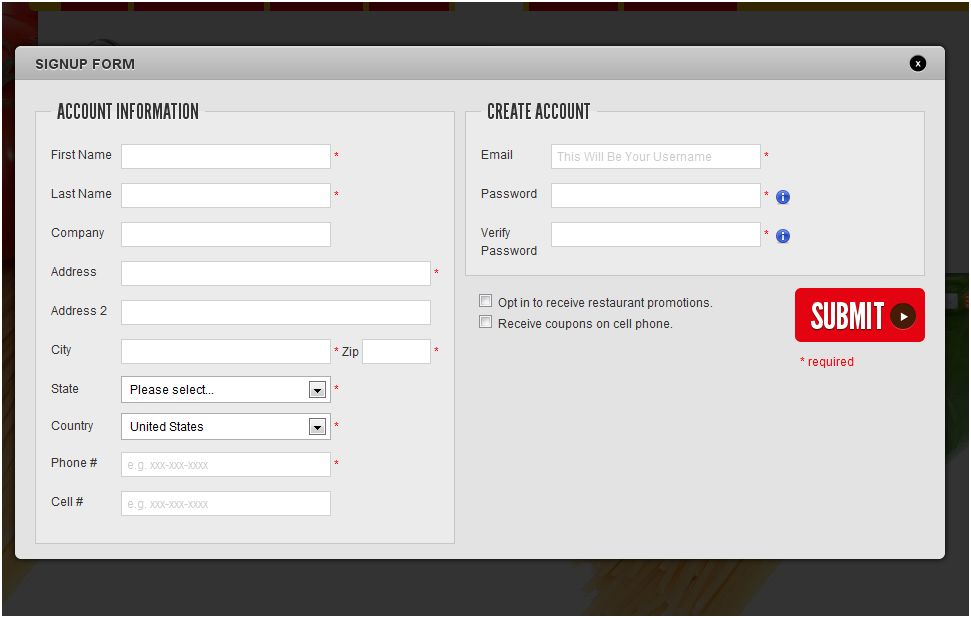 4. Submitting the Order
This is the last and final screen customers see in order to complete and place their order with your restaurant. They can either choose to "pay online" or "pay in person" (you can limit payment options to either or allow both options). In addition, customers can fully change their order. They can increase/decrease the quantity amounts, special instructions, whether the order is for pick-up, dine-in or delivery. Customers can also add tip amounts to orders.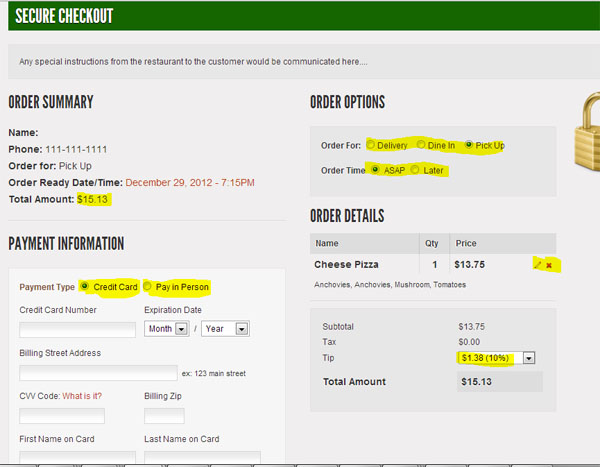 5. Order Confirmation – Sending to Restaurant
Once order is confirmed (paid for), it is submitted to the restaurant to be filled. Restaurant is first alerted with a text message or an auto phone call letting the restaurant know someone has placed an order online, followed by submitting the order details to the restaurant through email, fax, kitchen printer or any regular printer.
Ready to get started with our restaurant online ordering system?  Have any questions? Check out our frequently asked questions about our restaurant ordering system here.
You can also a few live sites that use our online ordering system, see the steps above live: