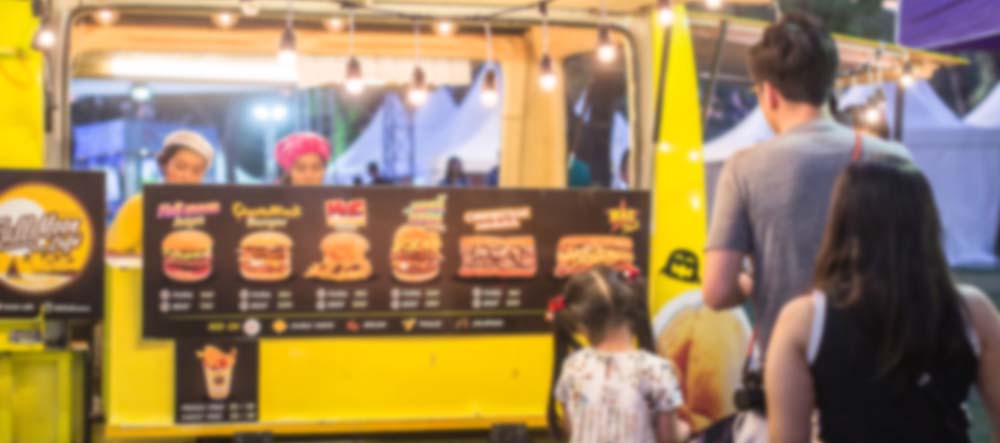 Food trucks are becoming very popular, and with good reason. People are getting tired of the same old types of fast food offerings out there, and they are craving something different, something tasty and unique. Food trucks have the capability to offer those things, and more. However, getting into the food truck business and being successful at it takes work and planning, particularly when it comes to marketing and management.
While it could be argued that this is the same with any restaurant, there are some different challenges that these owners will be facing. Let's look at some of the best and most effective methods of ensuring a successful venture.
1. What Makes Your Food Truck Different?
Owning a food truck means you are in competition with every other food outlet out there. This includes other food trucks, fast food joints, delis, restaurants, and more. You need to have a good name for your business, a good logo, and you need to learn how to brand your business. Even more important, you need to think about what it is that makes your food truck different from all the other eateries out there. Whatever it is that makes you unique needs to be a major part of your marketing message. Often, it will be the type of food that you serve and any of your menu specialties.
It is a good idea to find a niche that helps to separate you from other food trucks in the area. Even if you might be serving some of the same types of food, you want to make sure that you have something special to offer. You might want to create gourmet food, exotic food, healthy food, or "the usual fare". So long as you have a way to make your offerings unique, you can succeed.
2. Friendly Staff
One of the elements that your food truck needs is a good staff that is friendly to the customers. You want the staff, or yourself if you are working in the food truck, to be personable and to develop good relationships with the visitors. You will find that with a food truck, you will often have repeat customers, so it makes sense to always treat them as well as possible. If you don't, you can be sure they will not keep coming back to your truck no matter how good your food might be.
Put a lot of effort into the hiring process for your food truck, and only hire those who you believe will bring the right energy and attitude to the job. Never simply hire someone because they have the basic prerequisites to do the job. You want to make sure that they are just as special as your food truck. Good service is something the customers will always appreciate, but you can be sure that bad service will cause them to let everyone they know just how bad the service was. This can hurt a food truck business greatly.
Some food trucks go all out. They utilize costumes and they give their food interesting and quirky names as a way to stand out. You could do this if you would like, but it is not necessary. If you treat the customers well, have great food, and fair prices, you will find that you can do well and build a loyal following.
3. You Still Need a Website
Even though you have a food truck, it does not mean you should forego a website. Good websites are critical to the success of any business today, and that certainly includes food trucks. You will use the website to post your location, or locations, throughout the week. You will also have your menu on the website, and more information about your company. Having some bios for all the employees can be nice, as well. It helps to put a name and some personality behind the faces that the customers see when they come to the food truck.
The website should be easy to navigate, and it should be easy to use from mobile devices. After all, many of the people who will be frequenting your food truck will be using their phones or tablets to learn more about you and what you offer. Make sure you can cater to those mobile users.
You can also use the website for SEO purposes, so you start to rank higher in the search engines when people are looking for food in the area. Putting a blog on your site and keeping it updated at least once a week will help with this, too. In addition, you will want to have links for all your social media outlets on your site, too. This way, people who visit the site can connect with you on Facebook, Twitter, and any other social media sites you use.
If you have online ordering on your website, even better! This by itself will set you apart.
4. Social Media Is Your Best Friend
Food trucks need to be active on social media for a range of reasons. These sites are a fantastic and low cost way to market your business and to reach more people. Have fun on social sites, and be willing to engage the followers and fans that you have on those pages. You can use social media to spread your brand message, let people know your location, let them know about the specials of the day, changes to the menu, and more. You can also provide links to your blogs and to other places on the web that you find interesting and that you believe your customers will enjoy, as well.
Social media is a great way for you to develop the "personality" of your food truck. You can add photos, and even your menu. However, do not use social media in lieu of a website. Rather, you want to use them in conjunction with one another. If you have online ordering, you can let your customers know on social media to order ahead and save time!
5. Email Marketing
Email marketing can be just as effective for food trucks as it can for other types of businesses. Get people to sign up to your email list by offering them a discount when they buy something from your truck. This will give you permission to market to the customer with newsletters and emails. You do not want to inundate them with marketing emails, but you do want to let them know when there will be special events, for example. You can also send them offers through email, such as a two for one special if they bring a friend along with them. This helps to expand your brand and get sales. Email contests and customer surveys can work well through email, as well.
Just make sure that you provide the customer with an easy way of opting out of the emails if they no longer wish to receive them.
6. Create a Loyalty Program
If you would like to get more people to keep coming back to your food truck, starting a loyalty program is a perfect way to do it. These reward your customers for repeat visits. You might want to provide them with a punch card, which gets a notch each time they buy a meal from you. After ten meals on the punch card, they can get the eleventh one free.
A bounce back program can work well, too. With this type of program, you will reward the customer for returning within a certain timeframe. For example, if they buy one gourmet hotdog from you today, they get 10% off their next order from you if they return within three days.
Get to know the customers who keep coming back. They obviously love your food, and they can be some of your strongest allies. Provide them with even better rewards for returning, and for bringing along friends.
7. What Else Could You Offer for More Profit?
While most of your business will likely be through your food truck sales from day to day, consider some of the other ways that you could profit from your business. Consider offering catering for parties and for office meetings. This provides you with a new outlet for sales. In addition, consider offering gift cards for your food truck. These can sell well any time of the year, but they tend to sell especially well during the holidays. If you have created a distinct brand and flavor for your business, you could even think about selling merchandise, such as t-shirts, hats, and aprons that have your name and logo on them.
8. Think Outside of the Box
When you are looking for ways to market, think outside of the box. You might want to consider promoting that, on a certain day, you will be giving a portion of your proceeds to a charity. It could be a national charity, or it might be a local charity, if you prefer. You can promote this through your social media, website and blog, and you can send out press releases to radio stations, television, and the local papers. It is a good way to give back and to get more attention for your food truck business.
Another way to get some attention for your business is to hold a contest. It could be a raffle or a giveaway, a game, a competition, or any other type of contest that you feel might fit your branding. Let people know about the contest well in advance, and make sure that the prizes are fun enough to get some attention. You will find that word of the contest can spread quickly if you have a robust social media presence.
9. Tips to Prevent Failure of Your Food Truck Business
Now that you have a better idea of what you need to do in terms of marketing and management, you need to make sure that you are prepared for times of trouble, as well. Hopefully, you will never have to go through these sorts of problems, but it is better to be prepared and to have solutions just in case.
Prepare for problems and malfunctions with your vehicle, as well as all the equipment that you are using to prepare the food. One of the biggest benefits of mobile food trucks is the fact that you can move from one location to another simply by driving. If things are slow in one area, you can literally pick up and move for the price of gas. However, since your eatery is essentially in a vehicle, you need to be prepared for vehicle malfunctions. Make sure that you have your vehicle inspected and checked regularly, to ensure there are no potential issues. You do not want to have any downtime with your truck.
In addition, make sure all the equipment and tools you are using to cook are in good shape. Inspect them regularly, and be sure to have backup plans in place. Think about all the potential problems that could occur, such as running out of food or losing power, and know what you will do if that were to happen.
You also need to consider what happens during bad weather. People tend to go to food trucks on nice days. If it rains or snows, it means you will have slow business. This means you need to figure those bad and slow days into your budget so you are ready for those slower days.
10. Expanding Your Business
If you are successful with one food truck, you might find that you have more business and more locations to service than you can handle with just one vehicle. If you are doing well, it might be time to expand and add a second truck. It is not usually advisable to grow by more than one truck at a time though, as you want to make sure the second truck can do just as well as the first. In addition to selling in your own area, you might eventually want to expand to other cities.
Managing and marketing a food truck does not have to be difficult. It just takes preparation and planning, as you would do with any restaurant. Just make sure that you always consider those elements that make the food truck business unique. With determination and hard work, you can make your venture a success.