Convenience is key when it comes to enjoying a good meal at home. Everyone likes to spend a night in with some delicious restaurant food, but no one wants to spend time on hold when calling in to place an order. You can make it easy for your customers to have the appetizers and entrees they crave by introducing an automated restaurant ordering system. Avoid losing business appeal with today's diners by giving them a quick and convenient way to enjoy awesome dinners without leaving home.
Benefits of a Restaurant Online Ordering System
The benefits of an online ordering system are numerous. Implementing an automated restaurant ordering system saves you time and increases brand awareness. Here are some more reasons you need to use a digital method for your customers to purchase everything your restaurant has to offer.
· Customization – Your website and app will match the look and feel of your brand. Everything from images to content should grab attention and be easily navigated. You decide what happens. A customized ordering system keeps you in control, allowing you to make changes and updates anytime you want. Your business stands out with customized menus and matching images. Visuals help to entice customers to order multiple items.
·  Amplified Customer Service – Customer service is all about giving your clients what they want. An online ordering system that is easy to use provides a convenient way for your customers to select from a variety of options and place their order anytime during your operating hours. Everything from menu selection to checkout options makes your customers' journey memorable. Your restaurant ordering system is only as good as the provider, so it is crucial to have customer service from them too. Running a business means you need a smooth operation, so you can rely on prompt updates, quick fixes and response time to any issues.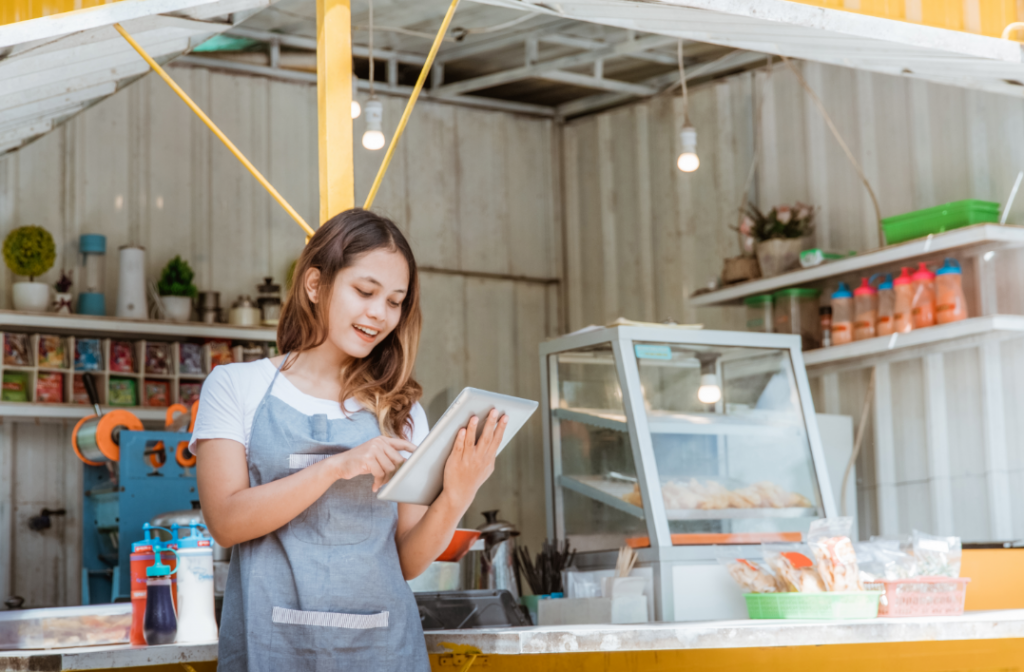 · Adds to Your Pocket – Getting an in-house software program for automated food ordering gives you a way to make more income and keep your profits. Third-party providers often charge high commission rates that can eat away at your bottom line. With an in-house system, you are in control. Your menu is shown on your website and your app. so you receive all the benefits.
· Streamlined Business – The restaurant business can be challenging enough without the added stress of manually taking online orders. Working in a kitchen is often chaotic with wait staff running in and out providing order tickets, companion chefs shouting out, and noise from the dining room leaking into the cooking area. This can cause confusion and lead to mistakes during a busy service. Having an automated restaurant ordering system in place gives you peace of mind knowing take-out and delivery orders are being handled efficiently. Everything is stored in a database so human error can be eliminated. You don't have to worry about gathering information like addresses and credit card details because it is all input directly by your customer when placing their order.
· Saves Money – When you can have a system in place to take orders for you, you can avoid spending money on extra staff. Forget having to hire an employee solely for taking orders from a phone ringing off the hook. Instead, you can choose to use your money to buy the quality ingredients that will elevate your business. Save on the costs of building an expensive website when you can harness the power of a user-friendly online selling system that focuses on growing your business at an affordable rate.
·  Customer Growth – Get more business with an automated food ordering system that captures all the information you need to reach out to existing clients.  Offering referral bonuses and frequent order perks can increase your income and expand your customer demographic. Edit your online menu easily to reflect current specials or custom banquet menus. Everything you want to tell your customers can be done through your online ordering system.  Use your customer database to reach out and inform them of exciting changes and deals to keep them interested.
Online Ordering Takes Your Business to the Next Level
An automated restaurant ordering system gives you the edge over antiquated phone ordering. Reach out to us at 247 Waiter to see how our software program can support your restaurant's online ordering needs. Step into the digital future…