Turn your customers' Netflix and chill into a foodie delight! A convenient restaurant order-taking system fulfills many of your customers' wishes. You can make it easy by offering all your menu items online. They can get your food delivered to them or pick it up on those occasions when they don't feel like cooking a meal or doing the dishes.
Ordering takeout meals from restaurants has become extremely popular with every sector of the population. From a quick lunch or snack to a full 3 or 4-course bonanza, dining at home is on the rise.  An online ordering system that stands out against the competition can help boost your sales and increase your customer base.
Take Your Online Ordering System for Restaurants to the Next Level
Step away from the norm to encourage customers to place online orders. Here are some great ideas.
Offer a Different Menu – Appeal to the online ordering market by grabbing client attention with some extra items not on your regular dine-in menu. This creates an entirely different food experience while still letting your customers order their tried-and-true favourites.  Unique, mouthwatering items can persuade customers to order online when they don't feel like dining in. Better yet, you might add to your profits when dine-in patrons order that special dish they have been eyeing when they get back home.  
An Experience – Provide a full experience for your customers instead of just a box with food and drink in it. Offer theme packages like a picnic kit that comes with a blanket, napkins, cutlery, a bottle of wine, cute plastic plates, and a free dessert.  Your customers will enjoy eating at home with this unique take-out extravaganza. Another great theme packaging can include party favours like balloons and streamers for birthdays or mystery dishes offered at a discounted price. Adding a little something extra encourages online food ordering.
Limited-Time Deal – The fear of missing out grabs everyone's attention. Limited-time deals are a great way to get people to order. Offer a special dish that is only available for one weekend every month and watch as people rush to place their orders. Send out social posts the week before to build up the anticipation.
You can also encourage online ordering with "pre-order only" items. Make orders time sensitive and only available up to a certain date. This will guarantee the number of sales and let you know how many items you need to prepare so no inventory goes to waste.
Incentive – Everyone loves a great bargain and food deals are awesome. Give your customers something in return for ordering food through your online ordering system. A discount code to use on their next purchase or frequent customer loyalty programs brings people back time and again. Repeat business is key to your restaurant's success.
Creative Combos – Offer interesting dinner combinations with your food ordering system. This will encourage people to order more than just an individual dish. Items bundled together as a package help increase your sales.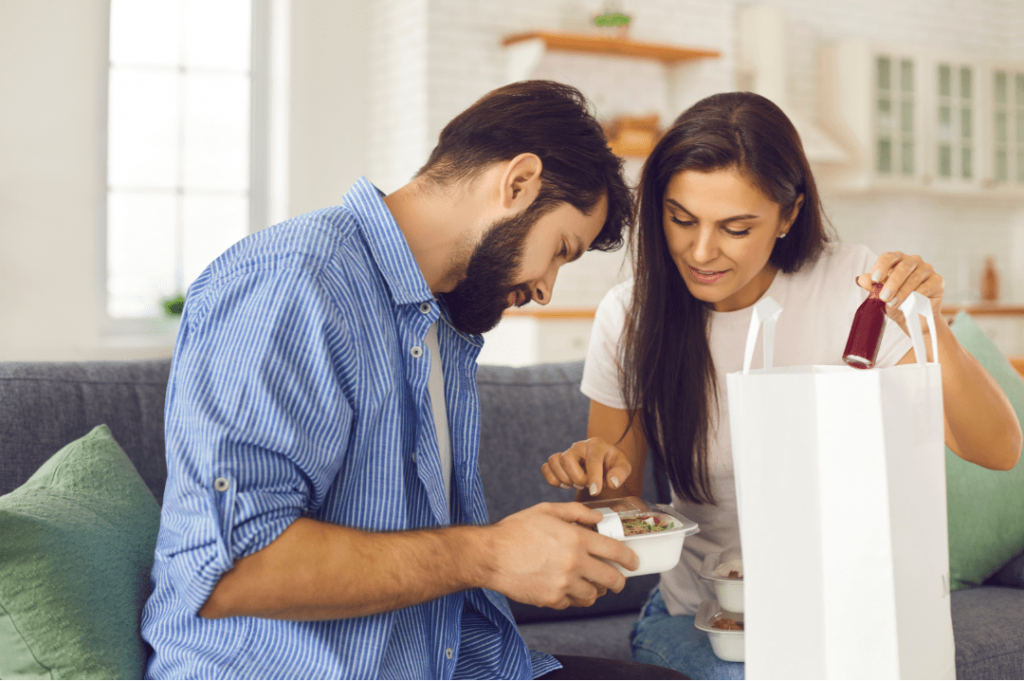 Marketing With a Restaurant Order-Taking System
As with everything, your sales rely heavily upon marketing. What are some marketing tactics you can put in place to promote your online ordering system?
Social Media – Keep your restaurant at the forefront of people's minds by social posting. Announcing you now have online ordering paired with enticing images on Instagram helps get the word out. A prequel post like "something is coming" will excite your customers and keep them watching your social channel for the big reveal.
Google Business Profile – Your target audience can find you with ease when you input your company information into a Google Business Profile. Keep your profile up to date with information like the addition of online food ordering. When the word is out there, people can easily navigate to your menu offerings.
Flyers – Send out snail mail or e-mail to your customers letting them know of your additional services. You can take advantage of promoting your ordering system to dine-in clients with a fun postcard attached to the bill.
Website – Have a pop-up on your website, informing visitors of your new online ordering capabilities. A call-to-action button will cause them to click "order now" and take them to the menu page. 
Online Food Ordering Helps You and Your Customers
It is a good idea to expand your delivery zones to reach more customers. Your restaurant order-taking system helps to improve your cashflow by making it easy for clients to purchase. A food ordering system is extremely beneficial in many additional ways. It keeps track of your customers' orders, their favourites, and habits helping you market to them in the future. 247 Waiter online ordering software leverages your time and allows you to focus on making delicious food.