Online Ordering is one of the newest phenomenons to sweep the restaurant industry and is quickly taking over take-out. With all the benefits associated with this process, it's a wonder that more restaurants have not already implemented online ordering in their restaurant business. This process has revolutionized the way customers can get food to go, and has made ordering hassles a thing of the past. While traditional takeout methods have stood the test of time, everything changes and restaurants that want to keep up with demand, convenience and customer satisfaction need to consider an online ordering system to keep their business up to the standards of competition.
Online ordering eliminates many problems faced by traditional call-in orders. Many times customers are hard to understand, have an accent, or just simply a bad connection. Special instructions can be left out or unclear. Mix-ups and misunderstandings can lead to orders completed incorrectly that leave customers dissatisfied with their take out experience. Since customer satisfaction is the key to repeat business, repeated mistakes can cripple a business' profits. Online ordering is a clearer, easier way for customers to place their orders to their own specifications, which are then transmitted directly to your restaurant as they are ordered.
See below an order submitted to the restaurant with special instructions:

An online ordering system not only eliminates misunderstandings, but it makes the ordering process much simpler for the customer as well. By having the ability to look at the menu and make their selections, they no longer need to ask what's available, what side choices are options, or whether or not your restaurant carries a certain product. Customers are free to peruse the menu for as long as necessary before placing their order without tying up valuable time on the phone with one of your employees. Customers can order quickly and efficiently, which means they have to wait less time for their food to be ready. No one likes waiting, although it is a fact of life. Online ordering gives customers the convenience of ordering their meal from home, then driving to the restaurant to pick it up at the scheduled time, with as little waiting as possible.
An example of categories & specials, customers make decision on their own: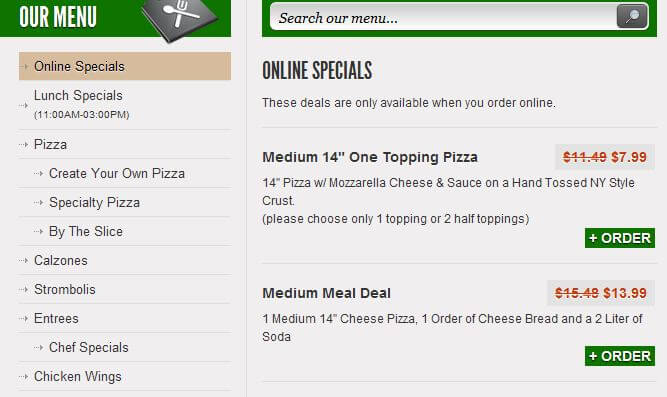 In addition to customer simplicity, the process of ordering food to go is much more efficient for the business as well. Without needing to spend a large amount of time on the phone answering questions, waiting for answers to options and delays while customers decide, employees can focus on other tasks, like preparing food, seating dine-in customers and ensuring that the service is up to previously determined standards. Having a menu online also makes up-selling an easy and efficient process that no longer relies on one of your employee's time and effort. By laying everything out in an online menu, customers are easily able to see all the products and options available, and are more likely to purchase.
Options and up-selling: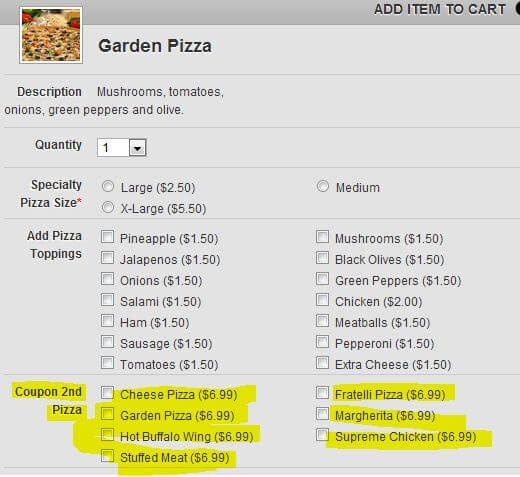 There is definitely a reason that more and more restaurants are turning Online ordering to better serve their customers. Many customers would rather order online at their convenience than have to place an order on the phone, and many will gravitate towards businesses that provide this extra convenience in order to ensure their order is correct, quick and delicious. While many chains have already jumped on the online ordering bandwagon, it is predicted that many more will join them in the coming years. The word is out, and customers enjoy the convenience and ease of ordering that was previously missing in the take-out process.