One day advance notice is required for all orders. If you have special requests or allergy concerns, please call the store at 609-921-0404. ATTENTION TAX-EXEMPT CUSTOMERS: Upon registering, please call the store to request tax exempt status on your account. Thirty-minute window required for delivery time. Please choose preferred start time for delivery (i.e. if you would like your order no later than 12:00pm, please choose 11:30am delivery time).
UTENSILS ARE OPTIONAL, IF NEEDED PLEASE INCLUDE WITH ONLINE ORDER.
Thank you.
Hot Entrees - Piatti CaldiServed with Pasta (Penne, Rigatoni or Spaghetti)
with Marinara Sauce, or Mixed Green Salad
Veal Milanese topped with tomato sauce and melted fresh mozzarella
+ ORDER
Homemade sausage sautéed with onions, red and green bell peppers. Served plain or with marinara sauce.
+ ORDER
Chicken Milanese topped with tomato sauce and melted mozzarella.
+ ORDER
Fried shrimp and French fries. (This dish does not include pasta or salad)
+ ORDER
Sautéed in a light lemon, butter and white wine sauce.
+ ORDER
With fresh herbs, garlic, and extra virgin olive oil.
+ ORDER
Layered with prosciutto, fresh mozzarella, and thinly sliced eggplant in a port wine reduction.
+ ORDER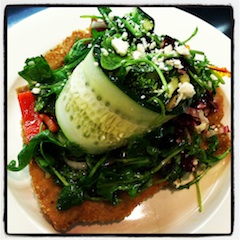 Topped with fresh arugula, pachino cherry tomatoes,and scamorza cheese. Served in a sherry wine and chicken stock reduction.
+ ORDER